News
Our screening event in parliament
In this blog, we talk about our recent screening reception in Parliament and the next steps in our No Time to Waste campaign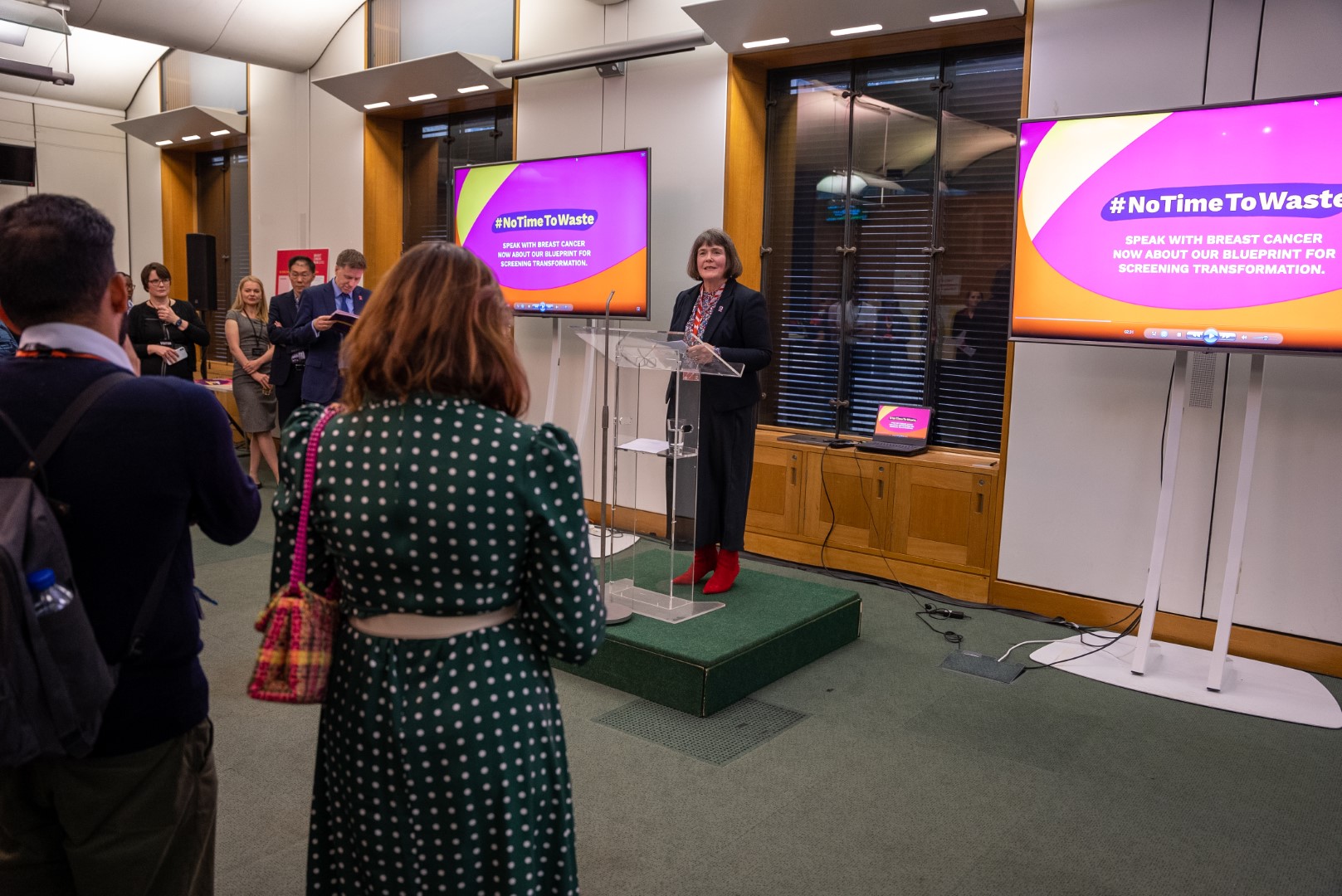 Last week, as part of our plans to highlight International Women's Day, Breast Cancer Now hosted a parliamentary reception to launch our blueprint for transforming breast screening in England. The reception, kindly sponsored by Tracey Crouch MP, was a fantastic afternoon of discussion and debate, and was well attended by people affected by breast cancer, healthcare professionals, policy makers and parliamentarians.
What's going wrong?
The NHS breast screening programme is one of our health system's biggest success stories and has been instrumental to breast cancer survival rates doubling over the last 40 years. However, the programme has now reached a tipping point, with record low levels of uptake and thousands potentially still living with undiagnosed breast cancer as a result.
And that's why we've produced our blueprint. Continuing the work of our highly important #NoTimeToWaste campaign, our blueprint is a clear and solutions-focused plan to maximise the screening programme's ability to save lives from breast cancer. Drawing upon data, patient insight and clinical feedback, the blueprint's recommendations are designed to ensure breast screening remains an effective and efficient tool for early diagnosis well into the future.
The reception
This reception allowed guests to discuss the challenges and opportunities in supporting women to ensure they can access the screening that is right for them. Attendees heard from our CEO Delyth Morgan, Health Select Committee Chair Steve Brine MP, and Women's Health Ambassador for England Dame Lesley Regan about the value of breast screening in early cancer diagnosis and the importance screening plays in closing the gender health gap.
The event centred the voices of women who shared their own experiences of breast screening and how the programme has been there for them. We were also grateful to have a number of clinical experts in attendance, including Professor Anne Mackie, the UK National Screening Committee's policy lead.
This is a vital issue, close to the heart of our supporters, and to the hearts of so many people affected by breast cancer in England. Since we started our campaign, we have received thousands of encouraging and concerned messages from the public, many of whom credit breast screening with saving their life. We were delighted to be able to share these messages, both in our blueprint, and with the parliamentarians that came to the reception.
What's next?
It was a great afternoon to be involved in and was fantastic to have so many people who are passionate to see the breast screening programme reach its full potential, join us to help deal with this crisis.
To help us continue our work in transforming the breast screening programme, please sign our petition and secure a parliamentary debate to guarantee women's access to breast screening – now and for the future. You can learn more about our blueprint here.