Blog
Men with breast cancer don't need to feel alone
We spoke to Dr Kerry Quincey, Doug Harper and Dave Talbot from the Men's Virtual Meet Up (VMU). They told us how it all started, its impact, and more.
We had a chat with Dr Kerry Quincey, Doug Harper and Dave Talbot from the Men's Virtual Meet Up (VMU). We asked about their connection to breast cancer, how the Men's VMU came about, and its impact.
The Men's VMU is an online group for men who've had breast cancer. It's a safe space for men to laugh and chat, as well as have serious conversations about their breast cancer experiences. It was set up by Doug and health psychologist, Kerry, and today, it's led by Doug and Dave.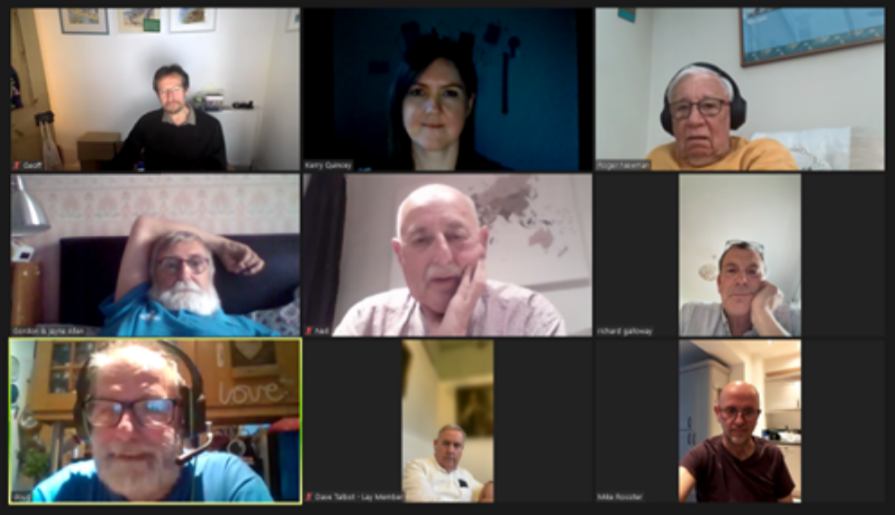 Kerry and Doug, why did you set up the Men's VMU?
Doug: When I was diagnosed in 2012, there was no support for men. I felt really lonely. My breast cancer nurse suggested a support group, but there were only women.
Later that year, I met another man with breast cancer for the first time. It was an emotional experience. We didn't speak a lot about breast cancer, but knowing he'd gone through it really impacted me.
Kerry: Doug and I met in 2016. He was involved in research for my PhD, on the psychological experience of men during and after breast cancer. According to my study, men felt they were offered a different amount of support to women.
After speaking to Doug, it was clear we both wanted to create a network for men to come together. And so, we launched the Men's VMU (Virtual Meet-Up) in October 2020. It was the first of its kind for men in the UK, and almost 3 years later, it's still one of very few male-dedicated services.
What is the Men's VMU, in your own words?
Kerry: It's a peer-led group for men, ran by men who've had breast cancer. The group meets online every month, for around 2 hours, and it welcomes men of all ages and backgrounds.
It offers men a safe space to talk through their experiences with other men who just get it. From time to time, there are guest speakers, like charity representatives, researchers and breast surgeons.
Meetings are relaxed and aren't just cancer chat – there's plenty of light, friendly talk, and banter. Men can simply listen if they'd prefer not to talk, there's never pressure to talk about anything, and turning on video is optional. People can come as a one-off, but we have many regular visitors too.
Dave: I always compare the VMU to a gathering of men at a pub, where rather than discussing football (although we touch on that too), we talk about breast cancer. Most importantly, the group is warm, supportive and full of laughter.
Doug and Dave, can you tell us about your experiences of breast cancer?
Doug: In mid-2011, I had what I thought was a cyst. Like a lot of men, I ignored it and hoped it would go away. At the end of the year, I saw my GP to set things straight. I didn't think it would be breast cancer because I didn't know men could get it. But when I saw my GP, he looked serious and told me to go to the hospital. When I found out I had cancer, I was shocked beyond belief.
I had chemo and radiotherapy and thought that was it, but after 5 years of Tamoxifen, I found out I had chronic fatigue syndrome from the impact of treatment.
Dave: I was in the shower on my birthday, when I found a lump between my right nipple and my armpit. It wasn't sore and I thought it was just a pimple. I wasn't feeling tired or unwell – life seemed normal. But I knew if your body changes, you shouldn't leave it, so I saw my GP. She said it was common for men to get fatty deposits but referred me forward any way.
As soon as a specialist consultant did the ultrasound, their face changed. And I could see the scan didn't look good. They took a biopsy, and a week later, I was diagnosed with hormone receptive breast cancer. The tumour was the size of a golf ball. Maybe I hadn't come across it earlier because I'm a big man, and the lump wasn't hard.
I had a mastectomy, and they removed all the lymph nodes from under my right arm. Then I had chemotherapy and radiotherapy. Now, I feel in good health and still take Tamoxifen, which has some interesting side effects. But I'm so much calmer now, and I take things in my stride.
What impact has the Men's VMU made so far?
Kerry: I think it's fair to say that everyone whose ever been to the Men's VMU has benefitted from it, however big or small. With cases being much lower in men, most hadn't been able to speak to another man who understood. So, when they do, there's a big impact.
Dave: Its impact goes way beyond our meetings too. It allows us to get the male breast cancer message out there.
Doug: It really has gone beyond our wildest dreams. Breast Cancer Now have been so supportive - we now have a dedicated men's forum on their website. And we've made many charities more aware of breast cancer in men.
We even impacted a recent Eastenders storyline, where a character played by Ricky Champ was diagnosed with breast cancer. Ricky came along to one of our meetings and used some of what was said for the storylines.
How has the Men's VMU has impacted you personally, as men who've experienced breast cancer?
Dave: For me, there's always someone who has experienced the same problems. It has meant I'm not alone with my diagnosis and long-term challenges.
Doug: The Men's VMU has supported me with some personal problems, and I've made friends for life.
What would you say to someone thinking of joining the Men's VMU?
Doug: Come and join us. We aren't doom and gloom. There is some serious talk but there's light-hearted stuff as well. It's just a place for men with something in common, to chat and come together.
The Men's VMU meet one Thursday a month at 7pm. If you're interested in joining, email doug.harper@themensvmu.org or pop a message on the Men's VMU online forum.