Blog
I love being part of an amazing community of volunteers
For Volunteers' Week, we asked Elizabeth about her volunteering with us. She shared her breast cancer experience, what she gets involved with, and more.
For Volunteers' Week 2023, we asked Elizabeth, Someone Like Me and information point volunteer, about how she helps out. She told us her about her BRCA2 gene alteration diagnosis, what she gets involved in, and her favourite things about volunteering.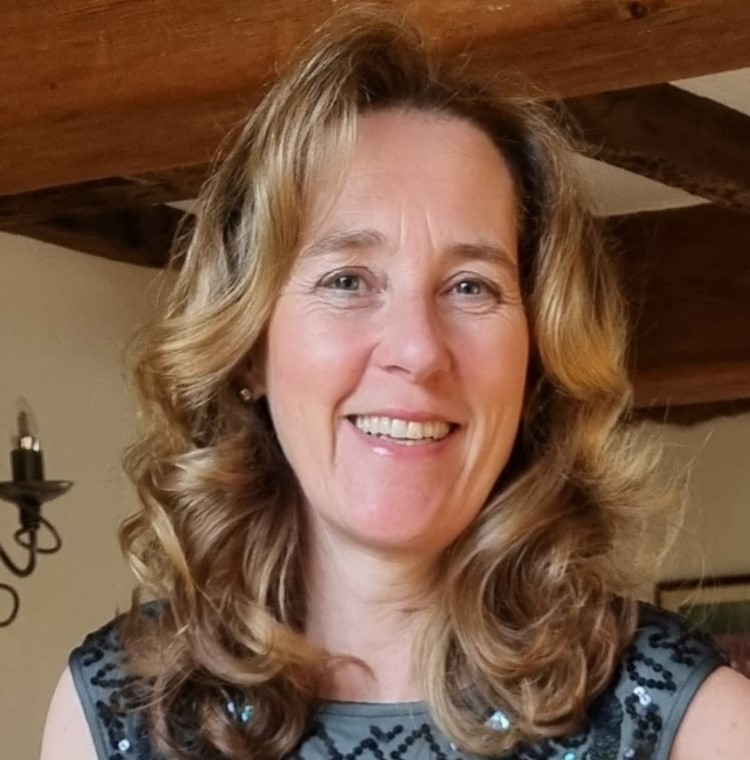 Can you tell us about your connection to breast cancer?
Back in 2008, age 41, I tested positive for the BRCA2 gene alteration. My mum had tested positive just a few months before, and she also had ovarian cancer.
After I got the results, I decided to have a total hysterectomy and a risk-reducing bilateral mastectomy with immediate reconstruction. I was lucky to have recovered so well. And recently, I needed a revised breast reconstruction called a diep flap.
But back then, there was no real support for women like me, without a cancer diagnosis, but with a very high risk of developing cancer. It was a scary and lonely place to be, even with the support of a very loving and supportive family.
Why did you decide to become a volunteer?
For a few reasons really; I loved the idea of being part of a volunteer community, where we can support and encourage each other to the best of our abilities. I believe this helps us do a great job in representing the charity. I have made life-long friends with other volunteers which has been amazing.
And I felt an incredibly strong need to support local people in my community and give something back to the amazing hospital staff who supported me 15 years ago, at the start of my BRCA journey. The information point role was perfect for that.
As for Someone Like Me, I knew that I had so much experience and useful information to share with ladies, at a time when they're perhaps feeling their most vulnerable and scared, so I just had to volunteer.
What does your volunteering involve?
As an information point volunteer, I pop into the hospital to stock-up the information stand, and I check-in on the admin and nursing staff to see if there's anything they need, or if they have any questions, which I love. We're a real team, working and communicating with each other in a fantastic, caring and warm environment. I feel immense pride upon entering the Breast Care Unit, wearing my gorgeous, shocking, pink Breast Cancer Now T-shirt.
As to my Someone Like Me role, I talk to service users who want to speak to someone who has gone through similar experiences to get support. My favourite part is having that first conversation with sometimes a very nervous and emotional service user, and seeing how they progress over time to become more confident and knowledgeable. I always feel so proud of all my ladies and do tell them.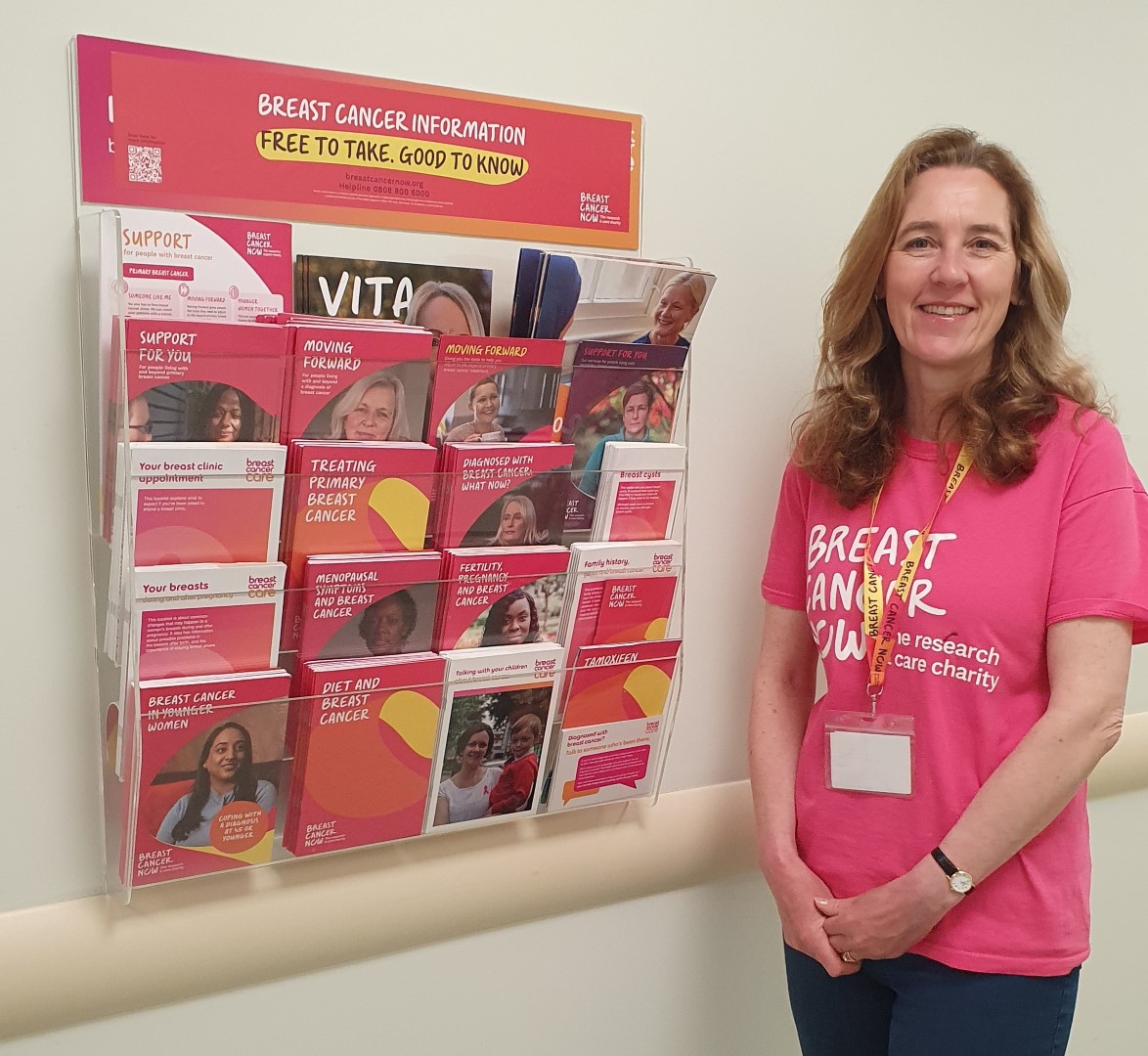 How has your volunteering work impacted you, personally?
Personally, I believe I've grown so much in confidence by chatting to lots of service users in my Someone Like Me role, and my family have noticed this too.
My role as an information point volunteer has also helped with my confidence, by chatting to patients and also to doctors, clinical nurse specialists and research nurses about the services the charity can offer and about my experiences of having a BRCA gene alteration.
Apart from gaining confidence, I feel happier in myself and love learning (even at my age) about any new services the charity has to offer and the latest research information. As I work from home full-time, it has been good for me to get out of the house, which has definitely improved my general well-being.
What does the word community mean to you, and do you feel a sense of community in the volunteer network?
To me, community means coming together as one to support each other, by talking, listening, being kind and being compassionate – just being there for each other.
100%, yes I do feel this way in the community network. I feel incredibly lucky to work with the absolutely fantastic team at Breast Cancer Now and wonderful volunteers I've met over the years, at various face-to-face events and online meetings – we are one big team encouraging and supporting each other in the most caring and safest of environments.
How has being part of the volunteering community impacted you?
Being part of the volunteer community makes me feel connected with others who understand. It's so rewarding to be part of a group of people who are all passionate about the same thing. And I love being a part of Breast Cancer Now and helping represent a charity that's important to me.
As well as my volunteer work, I think being part of the team of volunteers has helped me grow so much in confidence. I've met so many great people and I love being part of the group.
What would I say to someone who is thinking about becoming a volunteer?
Just do it. You'll get fantastic training and incredible support from the best teams possible, and you'll be part of an amazing community – you won't regret it.
If you'd like to make a difference and get involved, take a look at our fantastic volunteering opportunities. If we aren't currently recruiting for a position that suits you, register your interest and we'll get in touch.