After my surgery I felt forgotten by the lingerie market
Following a double mastectomy and reconstruction, Caroline felt there was a gap in the market for post-surgery lingerie. She decided to build her own brand, LoveRose lingerie.
Caroline was diagnosed with breast cancer twice: once in 2012, and again in 2015. Following a double mastectomy and reconstruction, she decided to build her confidence back up by creating a lingerie brand.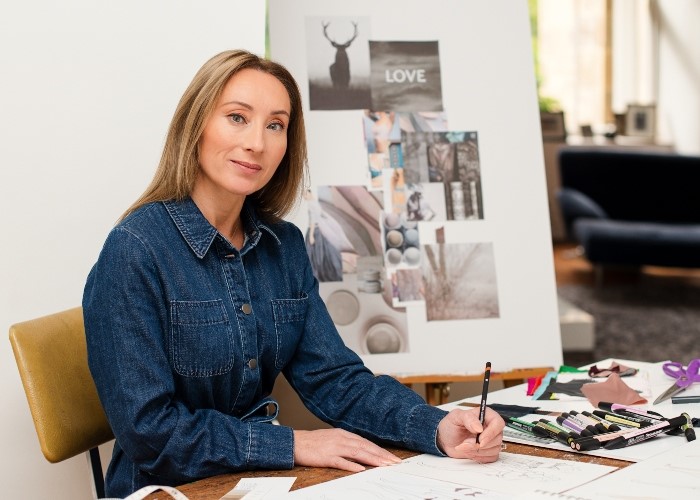 Lingerie has the power to help me feel good
I've always loved lingerie. I was that girl that wore matching sets even under a tracksuit (my lingerie was, and always will be, only for me!). It has the power to help me feel good about myself, gave me a secret confidence, was my armour, and got me ready for my day.
But that was all BBC (before breast cancer).
After breast cancer, dressing was stressful due to the lack of choice on the market. I couldn't find underwear that made me feel good or look good.
I was sad to lose my breasts
I loved my own breasts and I was really sad to lose them when I had a double mastectomy and reconstruction. I stayed strong for my children – who were really brave throughout the process – and pretended I was OK, but inside I found it really hard. People, family and friends would all say, 'That's great, Caroline, you have it all out of your body now you can just get on' or, 'You look great Caroline, you must be so glad to come out the other side'.
Well, yes. But I could no longer feel my breasts – they could be on fire and I'd not feel them. I had lost some of who I was, I looked like the old Caroline, but I sure wasn't feeling like her. Yet.
I was forgotten by the lingerie market
On the outside, I looked put-together – but I knew that I was wearing a bra made from some poly, nylon, yuck fabric that wasn't breathable and had industrial size straps that, on my frame of 5 foot 3, felt like another top under my top.
In everyday life, I still faced the problem of dressing: what underwear could I wear that was comfortable but didn't look like my gran's?
I would describe the choice of post-surgery lingerie in the shops as 'beige', and online it's mostly medical brands which I found to be too formed or a bit dated. I wanted colour, I wanted softness, I wanted matching underwear I would have chosen that doesn't scream 'cancer patient'! I found it impossible to find bras that were comfortable as well as feminine or sexy.
We deserve nice underwear
I decided to find out how other women who had gone through surgery felt and realised I wasn't alone in feeling that I was somehow forgotten about by the lingerie market. How dare they not cater to us (especially considering that, pre-cancer, I dedicated lots of pay cheques to them)! It's ironic really, as the lingerie market is worth billions and yet our ever-growing sector isn't being catered too as well as it should be.
So, one day in May – to be precise, 27 May – I went for dinner with my daughter and I wore something lovely, but underneath I remember being so conscious of the big ugly strap of the bra I was wearing being visible. I knew what I had on under my top. I felt like crap.
I wanted to help other women with cancer
That night I made a diary entry; it said, 'I am going to design post-surgery bras. People who have had surgery for breast cancer deserve nice underwear too, it would make me feel more "normal", whatever that is!'
I refused to accept that what was available had to be my only choice! And so, LoveRose Lingerie was born. I want to help other women who have been through cancer feel like they haven't been forgotten, and that we too can have sexy, feminine lingerie.
The LoveRose team is Sarah Bell Jones and me, and we work with a wider team spread over the UK and Portugal. Our models are ordinary women who have had different breast surgeries that are part of our community.
We are often getting very interesting glances in coffee shops across the city when we're checking out fabric samples and drawings, and we've yet to have a meeting when one of us isn't air-drawing boobs! All part of a day's work!
Caroline's company, LoveRose Lingerie, caters specifically to women who have been affected by breast cancer. To explore the body confidence-boosting products she sells, visit loveroselingerie.com.
If you have any questions about surgery, you can call our Helpline and speak to one of our nurses.