We held a golf day event for my mother-in-law and raised £18,000 for charity
Abigail and her husband wanted to raise money for Jen, who was diagnosed with secondary breast cancer. In a short space of time, their little idea turned into a huge success.
Abigail and her husband wanted to raise money for Jen, who was diagnosed with secondary breast cancer. In a short space of time, their little idea turned into a huge success.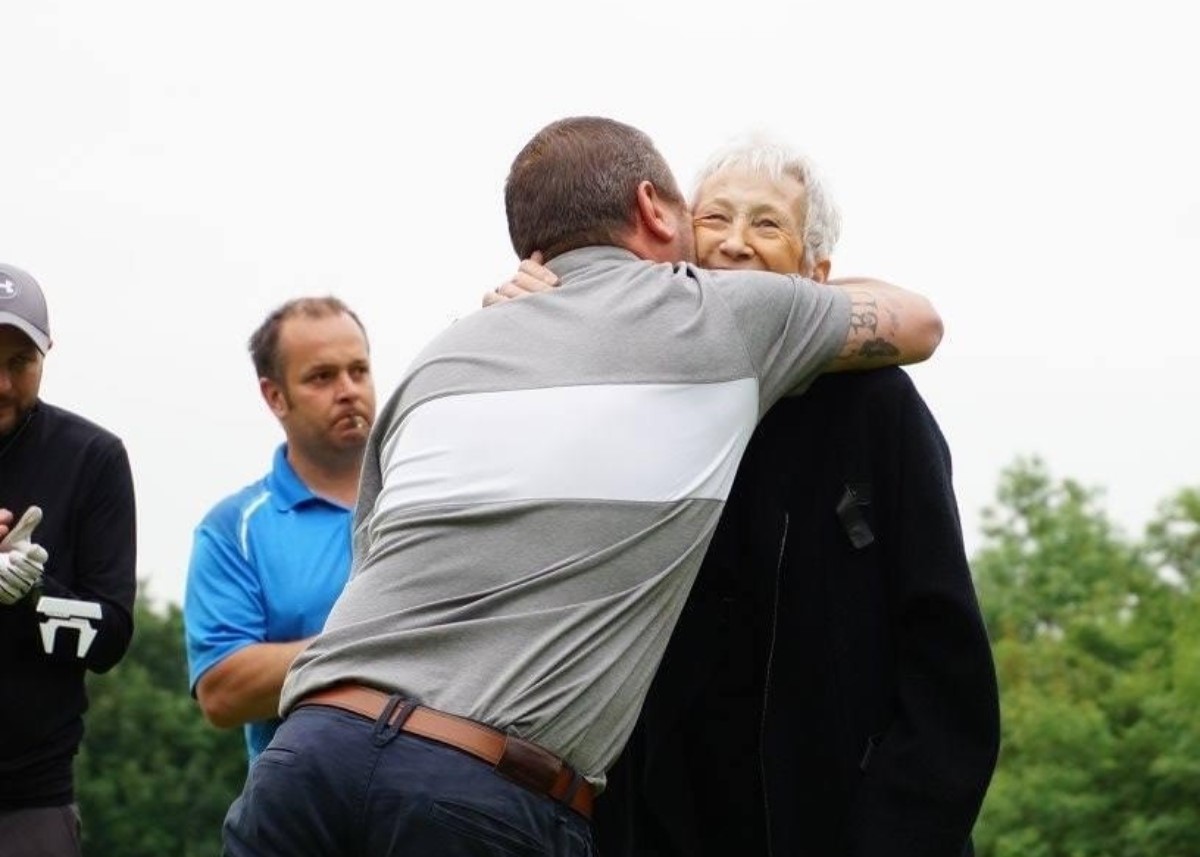 Golf was Jen's biggest love in life 
My mother-in-law, Jen, was diagnosed with secondary breast cancer after being in remission for 25 years. The day after we had the news, my sister-in-law was diagnosed with breast cancer as well, so it was a tough time for us all. 
My husband, Rhys, and I did the only thing that we could think of to help, which was to raise money for a breast cancer charity – and Jen was very insistent that we choose Breast Cancer Now. 
Initially, she asked that people did not buy her presents for her upcoming 70th Birthday, and that they put money into a JustGiving account instead. Overnight that grew into a Golf Day in her honour, as that was her absolute love in life, and she was a well-loved member of her golf club.  
Rhys decided that he would play 72 holes in one day to try and add some sponsorship money to the fund. After texting a few friends, he suddenly had eight other pledges to play the 72 holes.  
Social media helped us raise money 
There was no question where to host the event, as Kendal Golf Club was so close to Jen's heart. They were amazing. Everyone we spoke to was immediately on board, and they couldn't have been more helpful or kind to us.  
Plus, it was big enough to host a party after. 
We raised the main funds by opening a JustGiving page for sponsorship for Rhys and his team, which we shared on social media. Initially, we aimed to raise £500, which we achieved within an hour of posting on Facebook! 
We kept sharing with new pictures and information, and asked our lovely friends to share as well. Social media was definitely the key to increasing the sponsorship.  
Our raffle raised lots of funds 
We then sold £10 tickets for a big party in the clubhouse. Kendal Golf Club kindly gave us the room for free, so we used the funds to hire a DJ, cover food, and then gave the remainder to charity. 
We also hosted a raffle and asked friends to donate some prizes – some of which were amazing. There were weekends with fancy cars, weekends away, meals in restaurants, vouchers from the local butchers and hairdressers. It was so well supported. We sold tickets for £5 a strip, which really helped to raise funds.  
We also did an auction on the night for a holiday to Majorca, darts memorabilia and Premier League hospitality tickets. A friend suggested that, instead of auctioning the holiday, people interested could put £10 in an envelope and we'd pick a random one. This added some excitement to the night, as getting a holiday for £10 was a great prize. 
We did some smaller golf games and asked for people to pay £1 each to enter. The children who came up enjoyed these games and it made it an inclusive day.  
The event blew us away 
All of this was organised by our family, with support from Kendal Golf Club. Jen's friends rallied around to support where they could, too. 
We would never have been able to pull off such an event without our friends. I didn't have to ask anyone to help, they were just there. Balloons blown up, room decorated, tables arranged. Breast Cancer Now were great on the merchandise – they literally sent us everything they had in the office. 
Jen came along and her best friend drove her round on the buggy as she was too poorly to walk far at this stage. She managed to make the final putt for my husband on the last hole of the last round. This was a really special moment for them both, and for everyone watching. 
The turnout was phenomenal – way more than we could have expected. My husband had supporters all throughout the day, and the evening attendance blew us away. We were initially told by the golf club that we could have 120 seated, but this quickly had to be changed to 160 standing – and we prayed the sun would be shining so we could use outdoor space! 
Breast Cancer Now were fantastic 
There were so many highlights. My husband managing 72 holes of golf in a day was a great achievement for him but far more important for both of us was honouring my mother-in-law and making sure we raised as much money as we possibly could to help families like ours. We raised £18,000 in total which blew our expectations out of the water, especially that our initial target was £500. 
The only challenges in the end were having to turn people away because of the demand, and having the raffle go on so long because there were so many prizes. 
Breast Cancer Now were so supportive, sending best wishes on the day and following up to see how we went on. After the event, they came to visit the club to say thank you and brought a cheque for a presentation which was a lovely touch. 
I really underestimated how emotional this event would be. My husband made a speech at the end of it, and I remember just being so grateful for everyone that had supported us. 
The key to successful fundraising is planning ahead 
To anyone considering fundraising, I would say do it. Whether you raise £10 or £1000 doesn't matter, but raising awareness is tremendously important as well. Just make sure you are not alone. Share the organising and tasks amongst friends and family, and make it enjoyable. It's important to plan ahead, too, and let helpers know what they'll be doing on the day. 
Also, make sure you have a safe place to store donations! People come with a generous head on and all of a sudden you're carrying a pint glass with £500 raffle money in it. Of course, the easiest route to collect donations is to set up a JustGiving page. It's so easy to do and it can be shared on social media. 
If you want to host an event, contact Breast Cancer Now. They will give you the boost and support you need. 
If you're interested in hosting an event like Abigail's and raising vital funds to support breast cancer research and care, check out the Breast Cancer Now Golf Club.